| | |
| --- | --- |
| Team | Gryffindor |
| Position | Seeker |
| Number | 7 |
| Debut | V Slytherin 1991 |
| Brooms | Nimbus 2000, Firebolt |
| Gender | Male |
| Hair Colour | Dark |
| Eye Colour | Green |
| Date of Birth | July 31, 1980 |
| Film Potrayer | Daniel Radcliffe |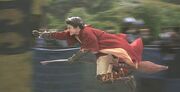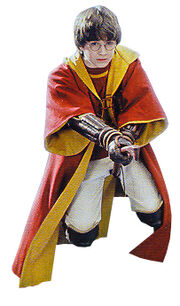 Harry Potter played as a
Seeker
for
Gryffindor
and won the Hogwarts Quidditch Cup three times. His father, James Potter also played for Gryffindor.
Harry's Seeker skills were spotted by Profesor Minerva McGonagall who recommended him to Gryffindor Quidditch captain,Oliver Wood. Wood took Harry on as his new Seeker for the season. Harry made his debut against Slytherin. In that game he beat Terence Higgs to the Snitch and sealed a Gryffindor victory. Harry captured the Snitch again against Hufflepuff in a game refereed biasedly Severus Snape, Head of Slytherin House.
Once again, Harry caught the Snitch against Slytherin for another Gryffindor victory. However the Quidditch Cup was later cancelled due to attacks on muggle-born students.
Harry won the Hogwarts Quidditch Cup for the first time, catching the Snitch against Slytherin in the final game of the season.
Harry won his second Quidditch Cup.
Harry was made captain of Gryffindor and won his third and final Quidditch Cup.